The emblem pilot of our team has been ascending step by step through all categories until he reached a position in Moto2.
In 2011, he was runner-up of the CEV and in 2012 he won the title of Champion. That same year he debuted in the Moto GP World Championship in the Moto3 category as a wild card rider.
In 2013 he became the official MotoGP World Championship Rider in the ranks of Team Estrella Galicia 00. In Indianapolis the won the first podium and in Motegi the first victory. 2014 was an unforgettable year for Álex who, after adding 10 podiums and three victories, became Moto3 World Champion in Valencia.
In 2015 and 2016 he was part of the Moto2 grid with the EG 0,0 Marc VDS team and he won his first and only podium at the 2016 Aragón GP, despite having started that year with an arm injury.
In 2017 he began to take flight, despite the falls that separated him from the fight for the title already in the middle of a season in which he achieved 3 victories, two of them before his public in Jerez and Catalunya.
In 2018 he was also on the podium 6 times, but was unable to win any of the races. The best, however, was yet to come. Winner of the Moto2 Motorcycling World Championship in 2019 with Team Estrella Galicia 00, in 2020 he became part of the Repsol Honda team, sharing the box with his colleague and brother Marc Márquez.
In 2021 he will be able to continue growing in the premier class with less pressure with LCR Honda.
4th Moto2 World Championship
Champion of the Spanish Moto3 Speed Championship
Category
Patrocinio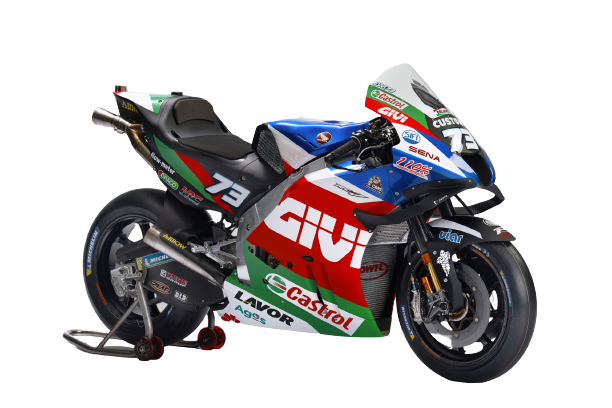 Kalex Triumph
Motor  765cc 4 stroke engine
Frame  Aluminum twin spar frame
Transmission  six-speed gearbox
Tires 17-inch Dunlop tires. Front and rear
Wheelbase 1350mm
Suspension Öhlins
Brakes Front and rear brakes: Yutaka
Weight  135kg